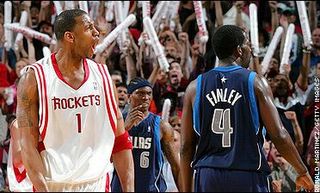 HOUSTON (AP) -- Tracy McGrady shouldered the burden of doing it all in Orlando, and had no playoff success to show for it.

With a little more help in Houston, McGrady is on the brink of a postseason breakthrough.

Playing with the desperation of a man on the brink of elimination, McGrady had 37 points, eight rebounds and seven assists to help the Rockets avoid a first-round exit with a 101-83 victory over Dallas on Thursday night.

"He's our superstar and we ride him," Rockets guard Mike James said. "Tonight we tried to help him with the load. We know he's going to lead us, we've just got to chip in."

The series is now tied 3-3, with Game 7 in Dallas on Saturday. The winner will face top-seeded Phoenix in the Western Conference semifinals.

For rest of article, click me.