It wasn't quite as easy as the score made it look, especially with the recent collapse vs. Spain stinging the mind, but Yao was dominant against the much smaller Team Angola. The ever resilient Angolans, down 35-21 in the 2nd quarter made an impressive run to get within 44-42.at the half. Yao, however, was just too much (30 pts, 10-11 FGs, 7 rebs, 4 blks) and he finally looked to be getting into game shape, which couldn't have come any later than this if China is going to make the medal round.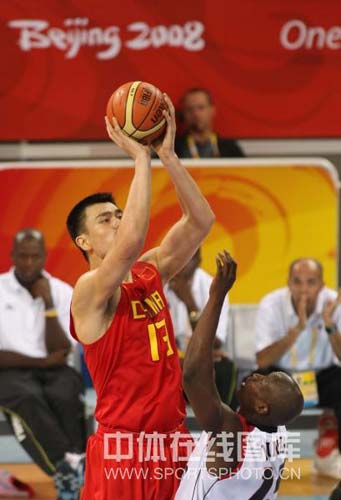 Yao Ming Mania has some nice action pics, none more indicative of Yao's complete size advantage than this one.


Yi Jianlian was somewhat more effective as well facing smaller opponents, finishing with 10 pts and 11 rebs but according to Team China coach, Jonas Kazlauskas,
Yi is still struggling to find chemistry
with Yao. Which again, I find a little disconcerting, considering it isn't as if they've never played together before. It appears that Yi would be more effective if were simply more active; not waiting for offense to come to him but attacking it by making sharp cuts to the basket off the ball and getting after the offensive boards.
Overall, an encouraging game for Team China, Yao and Rockets fans, too. Chinese Nats have a legitimate chance of pulling into the 3rd position with Greece also standing at 1-2. But that's really thinking too far ahead, every game at this point is a must-win until situations prove otherwise. Next up is Germany, a win there will all but guarantee their advancement to the medal round. A loss is pretty much an elimination.


Originally posted at Yao Central on August 14 10:45 AM.