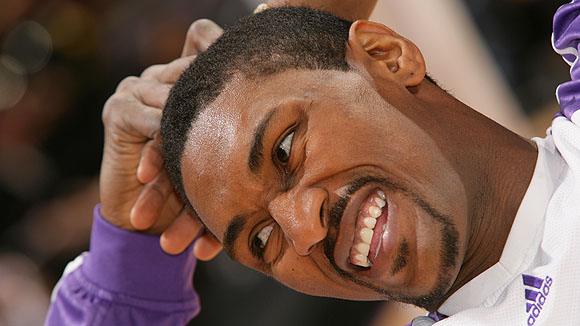 First, I apologize for not posting in well over a week. I've been in San Diego covering the 39th annual Comic-Con for Tor.com. It was going to take something major to get a post up--and Yao's 21 pts. in a
Olympic warm-up win vs. Angola
wasn't it (nor was
Team China's subsequent loss
to Australia).
Ron-Ron is asking permission to board the Rocketship and the brass have open arms. Suddenly,
the Rockets are a Championship contender
and it costs them only Bobby Jackson, Donte Greene and a 1st rounder next year (oh, and 1 mil out of Les Alexander's pocket). Has Morey done it again?
There is some similarity in this trade to the Battier move two seasons ago in that the Rockets are giving away a young, athletic player with huge upside--but questions about motivation--for a defensive-minded small forward. Far less will complain about this one, however, and the reasons boil down to Artest's toughness, his ability to create for himself and his team and everyone loves a bad boy. But for that you risk Ron-Ron unpredictability--something you never had to worry about with Battier.
There's no doubt Artest can be a huge difference-maker on this team, there's also no disputing that he has been a distraction on every team he's ever played on. Still, he likes Adelman, who was a major factor in his desire to come to Houston, and maybe this is the year he gets it right. Maybe. If not, the Rockets can cut him loose in '09. He's the quintessential high risk, high reward paradigm but Morey's put in work diminishing that risk, if just a little. Yes, it's only two first-rounders and Bobby Jackson but if Artest flips, it's another year gone for the Rockets vets. But enough of the critical eye, it's time to let the fan flag out. I'm all for Ron-Ron getting his **** together and my boy, Duke, has been begging for him all year. Even if I don't believe they're a real contender yet, it should make for an interesting run.


Originally posted at Yao Central on July 30 07:50 AM.
Picture courtesy of ESPN.com