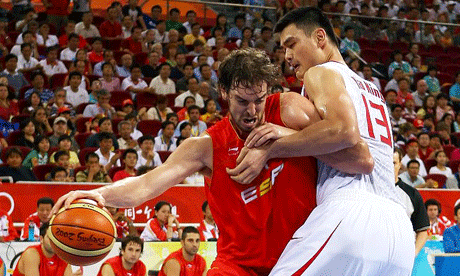 Nobody expected China to compete with Spain; not even the Spaniards. Which is why Yao and Team China carried a 14-pt,
61-47
lead, into the 4th quarter. Spain, however, locked it down in the 4th, scored virtually at will and forced the game into OT. After Yao fouled out in the extra period, China couldn't recover and Spain, walked away smiling, shaking their heads and looking very relieved.
For what it's worth, for three quarters, China looked like a real contender and its a shame Yao is nowhere near 100%, which would have made a significant difference. Especially facing Pau Gasol, who was completely dominant--and China again, got very little from NBA forward Yi Jianlian, who again, seems to only garner more critics with his play on the world stage. I can understand Yi struggling to find a niche on the team as one of the younger players but it would have been nice if Yi could have picked up Gasol to preserve Yao for the latter stages of the game. They could have used him in a less fatigued state of mind to reign in his floundering teammates.
Veteran Chinese guard, Wang Shipeng, even admitted that they were "too nervous by the end of the game." Which may be true but is not what you really want to hear if you're a team trying make a run to the medal round. The actual Olympics isn't the best place to build that confidence. This team has been together long enough to have the team comfortability (not sure if that makes sense) but the comfort and confidence in your teammates to know you can pull out games you should win. And that wasn't there. China gave away what might have been their only opportunity to secure the 4th spot to advance.
Now Angola and Germany are must wins and if they can't upset Greece, they'll have to hope both the aforementioned teams perform miserably. And you can't help thinking they missed out on another golden opportunity,
a little on-court rebuttal
to this
controversial pic
(that I haven't personally found terribly offensive but rather have relegated to Spain's "way" which may be construed in itself as being somewhat offensive) that's been circulating on the internet.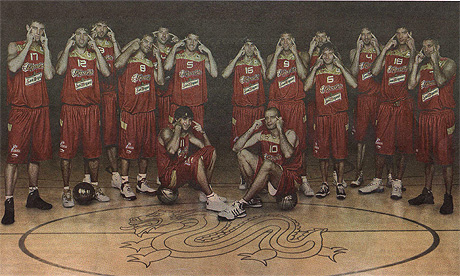 Pics courtesy of The Guardian
Originally posted at Yao Central on August 12 09:27 AM.