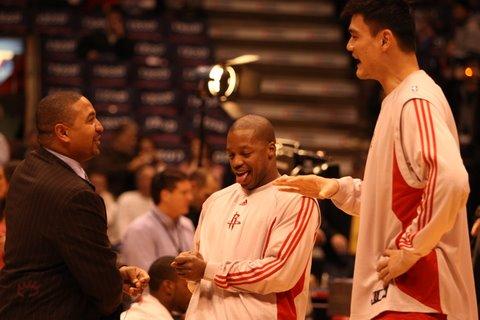 39:18 min | 25 pts | 9-18 FGs | 7-7 FTs | 11 rebs | 5 asts | 3 blks | 3 TOs | 4 PFs | recap

Yao knew it was you, Bokie... and It breaks his heart. Maybe not.

Yao racks up his 12th double-double of the season and for the second straight game plays with a little spicy in his crawl. How did Rick Kamilah phrase it over at NBA.com? Yao dunked over the whole state of New Jersey. Yea, and Bokie Nachbar, too. I know that because running back on defense, he turns to Steve Francis, laughing, "I dunked on Bokie."

He dunked on him nasty like. It's the nastiest dunk I've ever seen Yao put down, it just had to be on Bokie. It was like Michael Corleone sending Fredo out fishing for the last time. Unfortunate but necessary. Bokie got posterized. And I'm loving this new side of Yao. Dunk it. Just dunk it.

5 assists were good to see, too, which means Rockets supporting cast members were hitting shots. It was an all-around solid game, as Jon points out in his recap. When the Rockets play like this, they look hardly beatable. Finding consistency in this will be the key. As it is, San Antonio wins their 12th straight at home, even if Utah was robbed, to stay undefeated there--that late offensive foul on Boozer suggests that Yao isn't the only big man that officials have a hard time officiating. Hornets win, too, but Mavs have lost two in a row. Rockets are 5 games back in the Division, but only 1 game back from Dallas who's 1 game back of New Orleans. Yea, it's a tough division.

Yao Ming Mania has game photos.