ROCKETS 113, MAVERICKS 111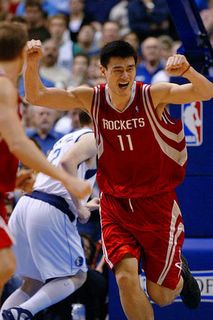 By Associated Press April 26, 2005

DALLAS -- Yao Ming scored 33 points on 13-of-14 shooting -- with his only miss arguably being more of a turnover -- and Tracy McGrady added 28, but it was their spectacular baskets in the final 1:07 that mattered most in the Houston Rockets' thrilling 113-111 victory over the Dallas Mavericks last night for a 2-0 lead in their first-round NBA playoff series.

The Rockets trailed, 102-95, with 5:36 left, when McGrady hit a jumper that sparked an 11-3 run that gave Houston a 106-105 lead. When the Mavericks tied it at 109, the dynamic duo came through again, with McGrady driving to the rim, then slipping the ball to Yao for an easy dunk with 1:06 left.

Dallas tied it again, though, when Dirk Nowitzki -- who broke out of his series-long slump midway through the fourth quarter -- faked McGrady several times and nailed a jumper from the free throw line with 10.4 seconds left.

McGrady, however, never hesitated. Not even looking to the bench for a possible timeout, he inbounded the ball, got it back right away and went to the top right of the 3-point line. Setting up behind a Yao screen, he buried a long 2-pointer, then made a sneering gesture as the Mavericks called time.

Given one last chance to salvage a split at home, Dallas failed when Michael Finley missed a decent look from near the top of the key.

For rest of article, click.